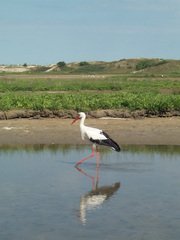 Nature Reserves in the United Kingdom
There are many stunning nature reserves in the UK, but some of them are so popular, it can be difficult to see any wildlife, with the noisy crowds taking away any peace and solitude. If you are hoping to spot rare birds, exotic butterflies or fascinating fungi, you can sometimes end up sadly disappointed. Here we take a look at some of the lesser known reserves, where you can enjoy the surroundings without tripping over other people's dogs and children.
Aberduna
Located in North Wales, and overseen by the Wildlife Trust, Aberduna comprises of areas of woodland and rich limestone grassland. The reserve measures 20 hectares and is perfect for butterfly spotting. You can expect to see such rarities as the Brown Argus and the Pearl-Bordered Fritillary. The reserve overlooks the Clwydian range of mountains and it is often possible to see the unique Welsh Carneddau ponies.
Portway Hill
This is one of the UK's newest nature reserves and is situated in Rowley Hills, overlooking Birmingham and Dudley. The grasslands are carpeted with wildflowers and there is an abundance of butterflies to be found. There is no need to worry about being isolated here, as medical advice is always available using the livi medical app if required. Birds of prey can be seen including kestrels and peregrines, and there are rare plants species such as the exotic Bee Orchid.
Loch Ardinning
Overseen by the Scottish Wildlife Trust, Loch Ardinning is a haven of wetlands, grassland and woodland, with mature trees and moors. There is something to see year-round when following the two well-marked paths around the reserve. Birdwatchers will enjoy the opportunity to try and spot black grouse, and pretty dragonflies are always flitting around.
Cullaloe
Cullaloe is located to the East of Dunfermline and was created from a drained reservoir, now hosting rare plants and wildfowl. It is designated as a Special Site of Scientific Interest. Breeding birds include sedge warblers and lapwings, with the arrival of teals and crested grebes during winter time. At any time of the year, water voles may be seen, but they can be somewhat elusive to spot.
Strawberry Hill Heath
This picturesque reserve is part of the historic Sherwood Forest area in Nottinghamshire. This area of open heathland is renowned for its heather and oak plantation. An astonishing seventeen different species of fungi have been found here, plus over forty species of beetles have been recorded.
With literally hundreds of nature reserves throughout the United Kingdom, it is possible to find one which has exactly what you are looking for. Whether you are a keen bird watcher, reptile fan or a butterfly enthusiast, there is plenty to discover.
Share this post, choose your Platform!